Fall 2013 is just around the corner!
We want to make sure you look fly ALL YEAR ROUND, let us be your go-to guide for what's hot in Fall
.
Here are the top 5 trends that are dominating the runway this fall:
Nina Ricci
Marc Jacobs
Grey layering
Grey has been everywhere on the Fall 2013 runway
. This color may seem boring, but it comes in so many shades that you can create a whole outfit without duplicating your look.
Grey matches everything so no matter how you wear it, it always looks appropriate
.
Asos
For the budgetnistas out there, you can recreate this trend by rockin a cool grey dress like this one from
ASOS
. You'll look effortlessly chic. Be sure not to wear the same shade from head to toe, or you'll look washed out.
Jason Wu
Zac Posen
Lace print dress
The lace trend has been around for a bit but this season it's taking on a whole new life!
Designers are expanding the types of lace
(see the velvet lace from Zac Posen)
that they use and they are using more lace-printed fabrics as well
(like Keri Washington's dress).
Lace is a feminine, romantic style that works for all occasions but be careful not to go overboard, you'll end up looking like your grandmother's tablecloth!
This look is best achieved when worn as a separate
, like this top (above) from
Express
.
FURRY COLLARS AND POCKETS
Jason Wu
Phillip Lim 3.1
Fur collars
This season
fur is exclusively used on the collars and the pockets of coats
. It creates a luxurious look that's not too over the top, plus it adds a cool urban flair to your ensemble.
A nice coat can make or break your outfit!
The key to this trend is simplicity
,
make sure that your coat is the standout piece and nothing else competes for attention
. Both Kim & Kourtney (above) have simple outfits underneath their coats with clean lines without crazy patterns. Take note!
Marc Jacobs
Phillip Lim 3.1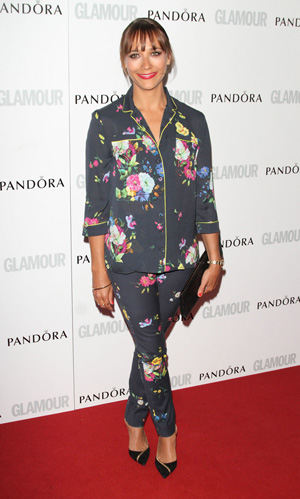 Head to Toe Pajama Look
I'll admit, the pajama-inspired trend has outworn its welcome.
If you fell victim to the pajama look when it first came out,
you can make this look hot by wearing the top and bottom separately
. Pajama pants, when worn alone, can jazz up any boring outfit (see Phillip Lim's pajama pants). They actually look pretty cute!
Keep in mind: the pajama style is SUPER hit or miss. When rockin this trend,
make sure you find something that's not too literal
but has a pajama-inspired look like these striped trousers from
Forever21
(above).
Prada
Ann Demeulemeester
Doc Martens
Remember those Tims you used to wear back in the day
? You might wanna pull those out again because lug-sole shoes are hot right now!
There are a ton of options when it comes to this trend because it's so practical in cold weather
! Plus, you can wear these shoes with pants, leggings, or a dress.
For an everyday Fall look,
pair these Timberland's with some striped trousers like the ones we showed in the pajama section
. They create a cool rocker look without sacrificing comfort or style.
That's it! Those are the top 5 looks that (we think) will be in high demand this Fall.
~~~~~~~~~~~~~~~~~~~~~~~~~~~~~~~~~~~~~~~~~~~~~~~~~~~~~~~~~~~~~~~~~
A helpful point to remember is that
fashion is always recycling and reinventing
, so make sure you spend wisely. No matter what,
be sure to keep classic pieces in your closet because they are timeless and will never go out of style
! Take note from Mrs. Obama...she has a classic style that complements her body type. Take a look:
Well, that's all for now folks! Enjoy.