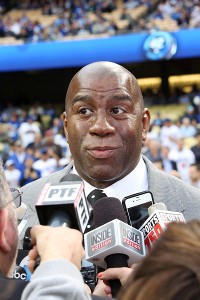 Magic Johnson and Los Angeles Dodgers chairman Mark Walter have partnered to buy the Los Angeles Sparks of the WNBA, saving the struggling franchise from relocation or contraction, WNBA president Laurel Richie has confirmed.
The new Sparks ownership group also includes Dodgers president Stan Kasten and part owners Todd Boehly and Bobby Patton, according to sources.
"Their knowledge of L.A., their passion for sports in L.A., it's just a great thing," WNBA president Laurel Richie told ESPN.com's Mechelle Voepel. "I could say it a million times: We are truly, truly excited."
A news conference is scheduled for 1 p.m. ET on Wednesday.
The Sparks, one of the original eight WNBA franchises, have been in limbo since Christmas when their previous owner, Paula Madison, abruptly told the league and Sparks coaches and employees that her company could no longer operate the team. Madison subsequently told The Associated Press that her family lost $12 million operating the franchise since buying it from the Buss family in 2007 and $1.4 million last season.